POV: You're doing some committed research into flights for your next friend-cation. After messing around with departure dates on all of the airline websites for a fair chunk of your lunch break, you finally come across some killer rates on flights to Miami. You text your best friend something like  "Hey, check out these killer rates on flights to Miami! 🤩" and they respond with something to the tune of "OMG, let me make sure my bank account will let me 🤑I'll let you know by tomorrow!" But when tomorrow rolls around and you get the go-ahead, you're hit with a major buzzkill on the airline website — those exact same seats have gone up significantly in price.
This scenario is pretty common when you're dealing with airfare. Seasoned travelers will tell you that when you find a great rate on a flight, it's go time — you either book it ASAP or risk losing out on the deal. The same applies to hotel rooms, rental cars, and even apartments.
Automated pricing and apartments
While a rare handful of properties still price their units themselves and without the help of algorithms, most apartment complexes these days use automated dynamic pricing software to maximize their profits. These software platforms crawl rental market data on a weekly or daily basis to set prices based on factors like supply, demand, time of year, current occupancy rates, competing properties, and more.
Why waiting isn't worth it
If you take anything from this blog, let it be this: when it comes to apartment hunting, move with urgency. When you find a place that checks most, if not all of your wishlist boxes, it can be tempting to take a gamble and wait to see if the price goes down before signing. But, chances are that if you've found a solid deal, other renters are eyeing it too. Or, the price will go up by $100/month overnight and you'll be mourning the loss of the $1,200 that could have still been in your bank account at the end of your 12-month lease. When you're betting against AI, tech has the upper hand in the game.
Determined to take your time to think it over? Pro tip: to lock in today's rate and prevent someone else from leasing a unit out from under you, we recommend submitting your application and deposit. Once you've completed those forms and paid the fees, the unit is taken off the market pending approval, technically still giving you time to weigh your options before making the final call. If you come to the realization that it's not the place for you, don't panic! You haven't made an official commitment until the lease is signed. And, if you're lucky, the complex may be waiving processing fees or including some extra perks for those who submit their apps within the first 24-48 hours after touring (just ask if they're running any "look and lease" specials)! If not, application and admin fees are usually non-refundable, so make sure you're at least 99% sure it's the place for you to avoid spending unnecessary money.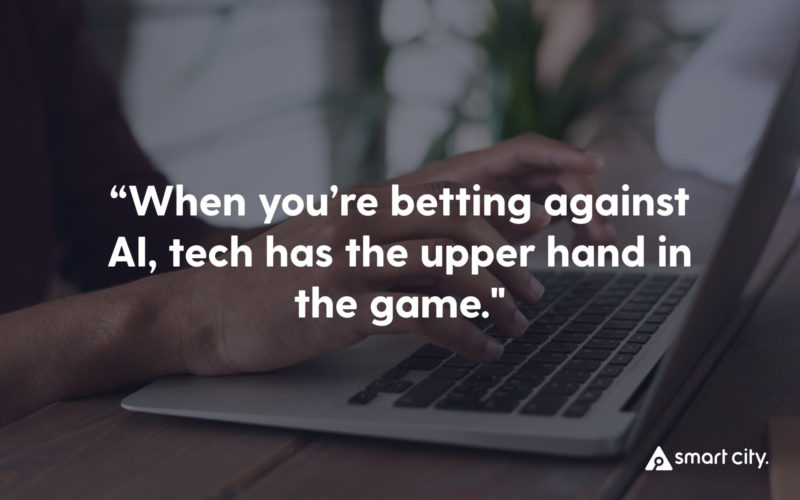 How to beat the bots
Just like airfare has the "fly on Tuesdays" hack (if you're not in the know about that one, Google it and thank us later), there are a few tricks of the trade when it comes to getting the best deal on an apartment.
1 | Moving in the wintertime
Moves tend to surge in the summertime and early fall, and when supply is down and demand is up, prices tend to skyrocket. By signing a lease outside of peak moving season, you can potentially save hundreds of dollars on rent.
2 | Signing a longer lease
Stuck in the summertime move-out date cycle? Play around with lease terms when you're browsing apartment websites and you'll see that some may have significantly lower monthly rates! Signing tenants on for longer periods of time benefits properties by keeping the cash rolling in consistently — when units sit empty between leases, they're making the property zero money. Plus, if the lease term puts your move-out date during the summertime, they know they'll be able to lease it at a higher rate next time around.
3 | Living in a brand-new build
While you'd think living in a shiny, new, never-been-lived-in apartment would come at a premium, the opposite is often the case! A new property's primary objective is getting leased up, so they often offer lower rates and better move-in specials when they first open. We see sweet deals like "10 weeks of free rent" or "$1000 off your first full month" all the time at new builds! However, keep in mind that if you're planning to renew at the same place, next time around the rate may be higher than you're hoping for since they'll be out of that momentum-building phase.
4 | Leveraging an Apartment Locator
Having a pro help you out with your apartment hunt is not only the smartest way to rent, but it's also totally free to you. Picking out where you're going to spend the next ~12-15 months living is a huge decision, and we know it's tough to juggle a natural tendency to want to "sleep on it" and the fear of losing out on a place you love. An Apartment Locator will be able to offer you advice if you're on the fence — their full-time job is to have a pulse on the market, so they'll be able to give you honest insight into whether or not you're getting the best deal possible.